This week I am very happy to be visiting the Dyroy seminar, with the Web Science DTC.
The hashtag is you want to follow on twitter is #dyroy. Follow along, its going to be great fun!
I am going to have a bash at live blogging. I've never done this before, so its quite an exciting challenge. There are a few of us here, in northern Norway, blogging and tweeting, etc. trying to support the English speaking back channel for the event.
In case you're wondering where we are today, this is our 'Press Office', thanks to Tim Davies for the pic!
Find Us Today and Tomorrow
Tim Davies has set up a CoverItLive event, and Huw Davies will be curating all of the content from today and tomorrow into a Storify channel. I'll get those links into here as soon as I can.
So, here it goes. . .
We're using an Etherpad to collect our notes today, here: http://okfnpad.org/dyroy and will be at CoverItLive also.
Introduction to the event by the Mayor, followed by the Regional Minister (loose tranlsation of Tale v/Kommunal- og regionalminister), Liv Signe Navarsete.
Liv Signe Navarsete
The emphasis of today's event is local level understanding of the issues, and increasing engagement with the youth.
Its all about young people having an impact on their local society, through projects such as youth councils. Not all municipalities are achieving this, and so we need to keep looking at this.
We need to change legislation so that youth councils and people with disabilities can have more involvement in decision making.
This should not be icing on the cake, just having a youth municipal council is not enough, we need to ensure that the resources can help, and that the hearings actually feed back and have impact on the municipal council.
We must not be going hat in hand, these outlying communities are contributing valuable resources to Norway, this is where we are safeguarding the 'Good Life'.
Disproving Myth #1
Liv shows a map of the poppulation of Norway, comparing it to the economics development of other European countries. Norway doesn't fit into the European economic framework. 81% of the country is devoid of people, but we are using ALL of our ressrouces to build the country. To further waht we have. We've made the best of what we have here, human development as well as other places.
Twitpic: https://twitter.com/nicoleebeale/status/247968974606856192/photo/1
Disproving Myth #2
We're all moving into the cities into apartments. This is not in fact what is happening here. We are moving both ways, from outlying areas into towns, and vice versa.  We move for family, jobs, all kinds of reasons. We are not all moving in the same direction. This movement is equal, in and out. The challenge is in fact that there are soon going to be many many more of us and so we need to plan now to maintain a good balance between the cities and towns and smaller regional places.
We need to plan now long term for the future, so that we are supporting young people being born and growing up in the regional outlying places.
We need to find out why people are moving. We must be proactive to find this out, to develop a policy for inhabitants.
Twitpic: https://twitter.com/nicoleebeale/status/247970487420985344/photo/1
Finishes talking about Building Reputation at a Local Level.
Marie Skavhaug
What opportunities do young people to influence and engage in the development of their own communities? – Marie Skavhaug, KDU
I live blogged the next presentation over at: CoverItLive Copied in below, in case you look at this later on:
Nicole Beale: Bjarne Dæhli, talking about – How can Norwegian district municipalities to facilitate young people contributes to the place they live developing in a positive direction?He produced a major report: New knowledge from NOU 2011:20 "Youth, power and participation 'v / committee . The report was presented to the Ministry of Children, Equality and Social Inclusion in December 2011. The committee was chaired by Trond Viggo Torgersen.
Nicole Beale: Thanks for the handover Tim!
Nicole Beale: Apologies, this is in fact Bjarne Daehli speaking.Bjarne has a background in the voluntary sector.
Nicole Beale: This is all about the study of power and its effects.#1 Young people must be heard in society. They can help with developments in society.So Q1 is who do you call to find out about this. The Ministry of Children, Equality and Social Inclusion.
Nicole Beale: This was set up, and we had one year to produce a report looking at schools, youth councils, and how digital media help strengthen and support the influence of young people.
Nicole Beale: So there is no contraversy with the fact that young people should have a voice. The problem is what channels they can use to do this.Voluntary orgs are offered one channel to make an impact – such as leisure activities provisions. Then there are the youth councils. And then we have the schools. And finally, the elections and the right to vote in local regional parties.
Nicole Beale: Young people here are between 12 and 26. You never really finish being young though!
Nicole Beale: SO, what do we mean by power or influence in this context. Its about being able to have an influence on society, such as through purchases you make, decisions you make, etc. For us, it was the Possibility of Options. To seek influence. And how you failictate that in the best way possible.
Nicole Beale: So its about the rights that you have – that you are entitled to , and that are given to you.
Nicole Beale: Its the opportunites that you have available to you when you are given space in forums.
Nicole Beale: And its about the attitudes that you encounter when you meet people representative of municipalities.
Nicole Beale: There is a legal obligation, in many areas in this topic. The municipalities want power to make their own decisions, about how much influence youth councils should have. Should they be legislatively required or not?
Nicole Beale: The problem is that there are many different age groups, and so its very difficult to decide how this could work.
Nicole Beale: The issue is to create good routines and specific rules so that we can safeguard these things.
Nicole Beale: Youth councils tend to recruit amongst their own social strata. This is not necessarily what the organisations want, but this is often how it pans out.
Nicole Beale: In schools, this often is problematic, as young people should be being supported to be able to participate in politics and the such. But the problem is that schools are not very good at doing this in the practical sense, although they support the theoretical teaching around being a good citizen.
Nicole Beale: In municipalities, the problem is that the process is being organised wrongly, where the youth council is not being used proactively. The youth council is also not setting the terms.
Nicole Beale: If you don't give the young people enough information about what is going on around them, how can they really make informed decisions as part of the youth council and therefore have an impact?
Nicole Beale: Young people will become involved if they are given an opportunity to have a voice and a meaningful one at that!
Nicole Beale: Municipalities need to contact young people. Its currently quite rare to involve youth councils in policies such as health or education. They tend to be quite good with culture, roads, etc.
Nicole Beale: So think about why you want a youth council, what they will be doing, how it will be formed, and other things that have been covered in this talk.Can we institutionalise these councils?Bjarne Daehli rounds up by saying that we must say that every municipality deserves a youth council, because it is a way to improve the municipality itself.
Nicole Beale: Presentation ends
In the coffee break, Olivier Philippe taught Bjorn-ove, one of the pupils we were working with yesterday at the school, to use Twitter. Now he is covering the event, tweeting as @platinabobby, so please say hello to him as he is new to the platform.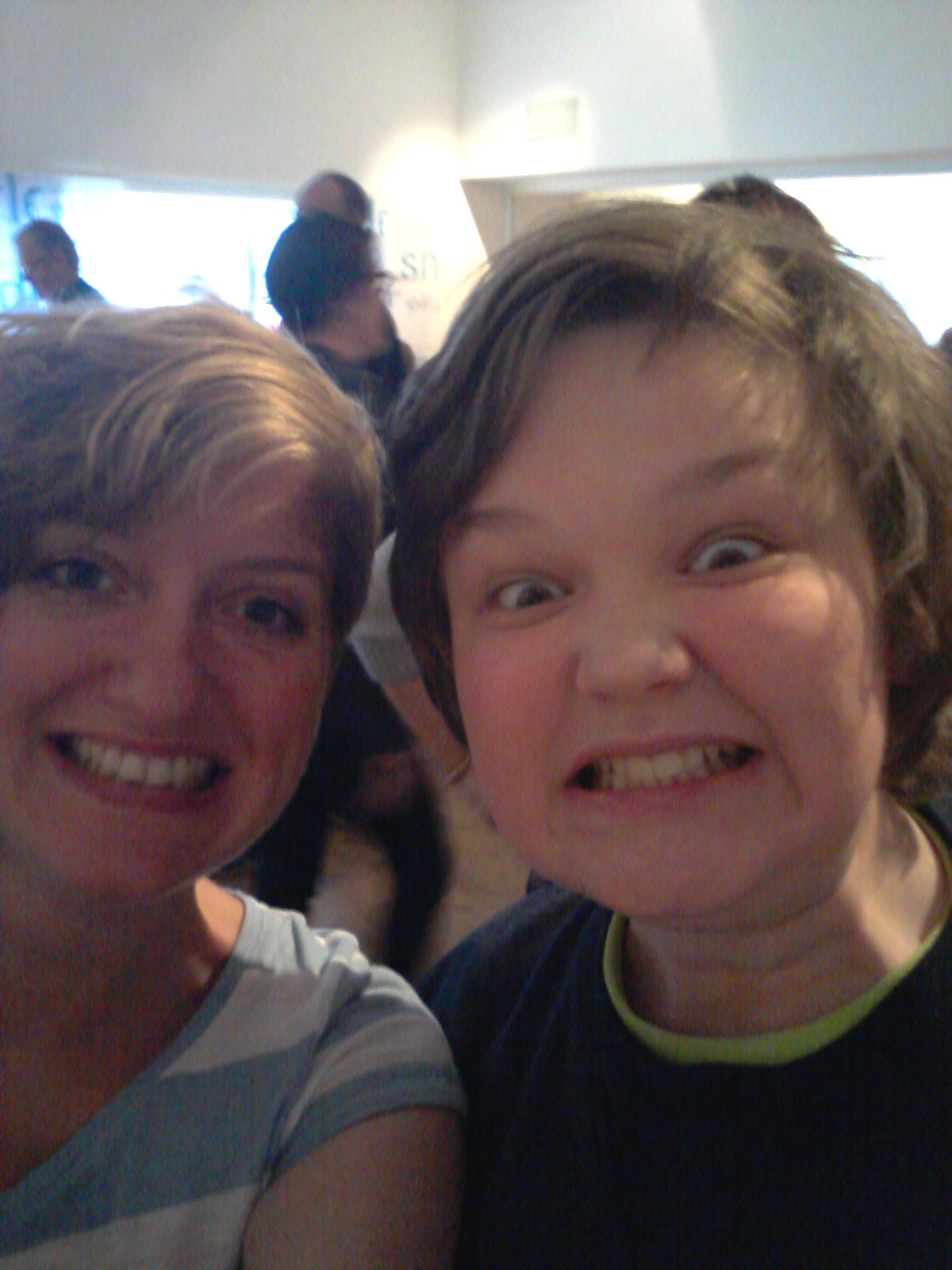 Anders Waage Nilsen
Oppspark debate with participants from several youth political organizations – Anders Waage Nilsen, Media Rena/Dreis AS
Anders is introducing the model that his community is using – Sirkle community pinboard on screen. Anders blogs here: http://waagenilsen.wordpress.com/2012/03/28/bygd-for-fremtiden/  Anders is talking about his blog, he uses it to make a difference.  His writings are going to be published as a blog soon. It is written for young people.
Exponentiality characterises the epoch within which we are living.  We are faced with enormous challenges.
Here is the question to politicians – how do we give young people confidence to contribute. How do we give young people the feeling that they can actually make a difference? We are today in a process of multiplicity. 97% of the population do not think that they are politically active. Obama's WeGo political process is a good example. We need to try to do something like this, opening up the process so that several different processes can be included.
How can we cultivate more original people? (like this – http://bygdalarm.no/2012/). We need to think about this. I choose to believe that I must exploit the resources from the world around me as much as possible. Ideas for life: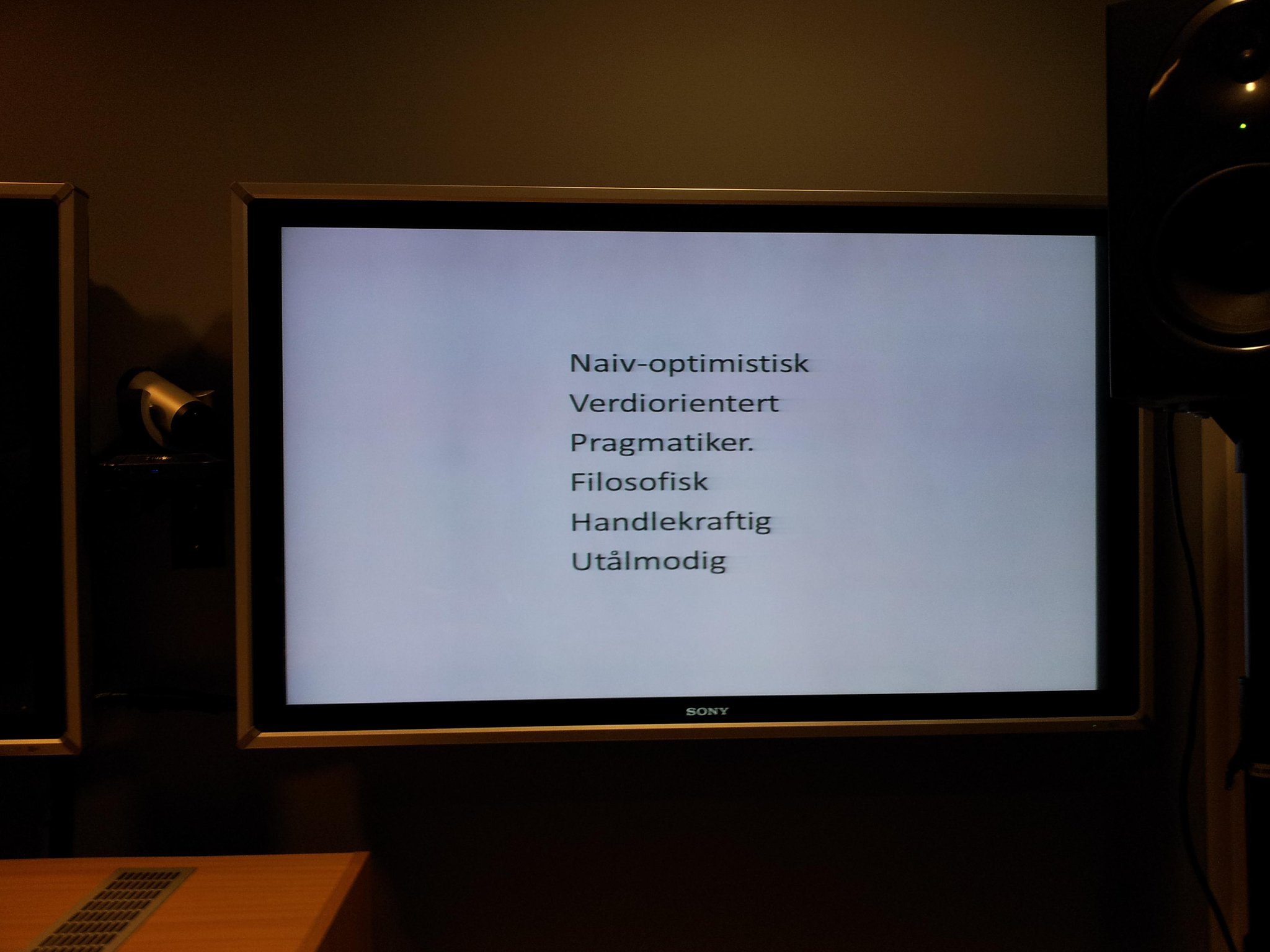 Panel:
Sandra K. Nygård Borch
Sandra K. Nygård Borch, leder av Senterungdommen
Talking about how she became interested in politics. Initially there was an issue involving a need for a multiuse space, so Sandra joined the municipal representatives.  Sandra was the deciding vote for the multiuse space that she became involved in a campaign for.  It is important to say that democracy in Norway needs to be maintained. We must work to maintain it. Young people are the ones who have the most to say. Democracy should not be an exclusive project. Young people's involvement needs to be facilitated by established politicians. Young people will be the ones who live here in the future. Young people can be elected into the municipal goverment, and there they can learn to prioritise. They will have to take responsibility and dcide which things to prioritise. Its good practice for the future.
Viljar Hanssen
Viljar Hanssen, Svalbard/Tromsø AUF
Two proposals:
1. What is it that youth involvement is about? We think about big international issues, but involvement can also be a football team, better payments in the municipality, etc. Everybody needs a spokesman for them. What better than to have a youth council? Setting up a youth council is not the be all – You need finances, to facilitate it, often you have to join two municipalities if there are not enough people, sometimes you need to support it. Young people bring a new perspective into the local municipalities.
2. Young people don't want to be a burden to the municipality. But they do need to be in the municipal government, and to have a say.
Kristian Eilertsen
Kristian Eilertsen, Harstad FpU
I want to ask some questions for us to think about. We need to think about what the things are that we need to have an influence on. Is it just about what we are going to have for dinner and whether we are going to do our homework, or is it about making changes to our learning environment and other such things? It is very tiring to be proactive. I want to be controversial and say that the democratic process doesn't always work for youth councils in the schools that I have been to. So why do some people seem not to give a damn. My claim is that young people who have a burning interest, they can get something done. We have many different platforms where young people are active, we can put our opinion out there just by saying 'Like'. Its easy to communicate many things.
I want people to have an impact, by ensuring that they find a party that works for what they want to work for.
We also need more people like us. Politicians, you need to let young people in. Don't look at us as a threat to the established order. If we are not included, we will be apathetic. Seek power to influence, join a political party.
There then followed a panel discussion. See the CoverItLive for the discussion details: http://www.coveritlive.com/index.php?option=com_altcaster&task=siteviewaltcast&altcast_code=98acd1bfb0&height=550&width=470
Very busy lunch talking to delegates and presenters at the seminar. Its raining a little, but that has not stopped us from enjoying the fire-cooked coffee outside and the delicious lunch provided by our hosts.
Slight amendment to the timetable, now up:
May Camilla Munk Earth
About the place of belonging, identity and what causes us to be in a place – May Camilla Munk Earth , a researcher at University College Finnmark
May begins her presentation talking about the different dimensions for places,
1. materiality: locality, social practice
2. everyday lives
3. lay discourses – this is what people say they belong to, defining who they are through where they are. i.e. stories that are talked about, about a place. Gas, adventure, mineral exploitation, the High North, the land of possibilities. Its related to reputation, in partiucular to how people outside think about you, and whether you can identify with that place. Its a concious thing.
4. representations (Halfacree, 2004).
In 2008 there was a study that asked people who had lived in a place for more than 7 years why they had chosen TO  move there. Until then, most studies had focussed on asking people why they had moved FROM their previous location. Family was the highest reason for people staying where they were. Only a 1/5th of responses were related to work. Work is not the most important factor, despite what is believed.
We can move clusters of highly skilled people into localities. This will not be enough to make people stay there. Example of the Kontorhotell – http://www.stedsuavhengig.no/tag/kontorhotell/
These are the things that people said they wanted:
Nature
Culture and leisure time
Welfare, business and service – But people can do alot of this online.
Residences – Not a massive issue as people feel that they can sell places, even if they've done a lot of work on them.
Family
Educational possibilities.
I missed these, but will ask the translator in a moment to tell us what the points from the research are:
They included:
Important and inclusive place identity or location identity
Multilocality associations
Compactness
People who move to a place often are made to feel that everyone else is just waiting for you to leave. We need to make them feel more comfortable.
People who move in will feel that they can settle somewhere if they feel that they can be mobile. Mobility will mean that people feel that they can belong from many different places.
We must think about gender differences. In Norway there are gender barriers. For instance, in Norway it is mostly women working in healthcare. It is difficult for instance for a man in Norway to take a job as a hairdresser. We could create a local culture better supporting the breaking down of these barriers.
I live blogged the next two presentations, see below:
Charlotte Holberg Svenison
2:16

| | |
| --- | --- |
| | William Fyson: And that's Mai Camilla Munkejord finished!Next up is Charlotte Holberg Sveinsen! |

2:18

| | |
| --- | --- |
| | Nicole Beale: Charlotte is giving us some background about her upbringing, where she identifies with, and how she maintained connections with her childhood traditions, and then later the traditions of her husband and his family. Charlotte moved from Oslo to the rural countryside. She lives 1km from the nearest residence. |
2:19

| | |
| --- | --- |
| | Nicole Beale: I trained as an actress, but could not keep this up in the countryside! So I sought for something that I could do… |

2:20

| | |
| --- | --- |
| | Nicole Beale: My interests are making food, interior design, and gardens. I wanted to do something that incorporated all of this, but also I wanted to do something in my local area. There was not much tourism where I am based, and I thought that there was a potential to share this wonderful place with more people. |
2:20

| | |
| --- | --- |
| | Nicole Beale: All places have positive qualities. There is always potential to tell people about something… |

2:20

| | |
| --- | --- |
| | Nicole Beale: I wanted to have guests, and to promote the idylicness of living in the countryside. I set up a cafe. |
2:21

| | |
| --- | --- |
| | Nicole Beale: I wanted people to feel that they were going on a personal visit that was in the countryside. |

2:21

| | |
| --- | --- |
| | Nicole Beale: It had to be like it was historically, where people were generous and hospitable. |

2:22

| | |
| --- | --- |
| | Nicole Beale: And it would be a praise to the Good Life, living in the country. To honour my village. |

2:22

| | |
| --- | --- |
| | Nicole Beale: To improve the reputation of the village. And ensure that it was not thought (wrongly) to be a population of older people who were unwelcoming. |
2:23

| | |
| --- | --- |
| | Nicole Beale: There was always a clear goal. It wasn't just going to be a place where people could just buy things, or have a coffee. |

2:23

| | |
| --- | --- |
| | Nicole Beale: The idea of the ideal life in the countryside had to be within the whole delivery. |
2:24

| | |
| --- | --- |
| | Nicole Beale: There was lots of work, I had children over two and a half years, whilst working through lots of paperwork. There were lots of positive people who supported me. But there were people who were less certain that this idea would work. |

2:24

| | |
| --- | --- |
| | Nicole Beale: In 2008 the idea became a reality. |
2:25

| | |
| --- | --- |
| | Nicole Beale: I estimated with Innovation Norway that I would sell 28 cups of coffee a week when I opened. This is not what happened. Instead people have been making pilgrimages there. 30% increase in 2012 from 2011. We are the most popular visiting attraction in our area. |

2:25

| | |
| --- | --- |
| | Nicole Beale: Why is this? Because its something new? |
2:26

| | |
| --- | --- |
| | Nicole Beale: But I have stuck with my idea, and worked at it from the ground up. I now have 22 people on my payroll, and a full time baker. |

2:27

| | |
| --- | --- |
| | Nicole Beale: We use local products and people are very positive about what we do. And this is where my energy comes from. People appreciate what I am providing. And this means it is important for me to continue in this way. |
2:27

| | |
| --- | --- |
| | Nicole Beale: It has to be a total experience. |

2:28

| | |
| --- | --- |
| | Nicole Beale: I have been intense in my marketing – perhaps overdone it a little! But what I really believe is that there are possibilities everywhere. |
2:29

| | |
| --- | --- |
| | Nicole Beale: On my trip here I saw so many opportunities. You have to make your hope a reality. Just jump into it, there is huge potential. Since 2008 I have felt like I am hanging onto a rocket. Since 2012 it has REALLY taken off. I have had a cookbook published. |

2:30

| | |
| --- | --- |
| | Nicole Beale: As a city girl, gaining the recognition of the Cinderella Prize from the farmers means so much to me. I have been accepted because I keep going, and do anything I can to have a place. You've got to give, and if you do that you will receive it back. |
 
2:31

| | |
| --- | --- |
| | Nicole Beale: Presentation ends. |
 Ragnhild Dalheim Eriksen
2:31

| | |
| --- | --- |
| | Nicole Beale: Next up is Ragnhild Dalheim Eriksen, she is a student and former leader of the indigenous festival Riddu Riđđu. |

2:32

| | |
| --- | --- |
| | Nicole Beale: Ragnhild begins… |
2:32

| | |
| --- | --- |
| | Nicole Beale: So, I WAS the festival leader, but this is still part of my identity. |

2:34

| | |
| --- | --- |
| | Nicole Beale: Ragnhild talks about how beautiful Dyroy is, and how she wants to move here when she arrives. There is something special about Dyroy. I was in a cafe preparing to go to Dyroy and my friends said to me: ooo, they're good out there, they get things done there. |
2:34

| | |
| --- | --- |
| | Nicole Beale: Often its the negative things that people think about. But its much cooler to come from a place like Dyroy. |

 
2:34

| | |
| --- | --- |
| | Nicole Beale: The reason I always want to come and live here when I visit is the thing about IDENTITY. |

2:35

| | |
| --- | --- |
| | Nicole Beale: There are changeable and unchangeable things about identity. |
| | |
| --- | --- |
|   | |
| 2:37 | Nicole Beale: Ragnhild shows some images of her wearing traditional Sami dress. |
| | |
| --- | --- |
| 2:38 | Nicole Beale: I wanted to dress like everyone else. But then as I got older I wanted to know more. I wanted to know what kind of a place I lived in. Living in an intersection, not belonging to a city. This made me proud, and came out in me. So I wear this necklace to make me feel more Sami. |
| 2:39 | Nicole Beale: The festival that I was part of was started to make Sami people feel proud of their identity. And it was a meeting place for people to encounter their own identity with others. |
| | |
| --- | --- |
| 2:39 | Nicole Beale: It is in our encounter with others that our identity is formed. |
| 2:40 | Nicole Beale: It is important to have an identity. Its tied into security. Especially important when you are young. |
| | |
| --- | --- |
| 2:41 | Nicole Beale: Its easy with me, as I have a Sami background, but everyone has something to relate to. |
| 2:41 | Nicole Beale: There are disadvantages too, but we can come back to that. |
| | |
| --- | --- |
| 2:42 | Nicole Beale: I took Graphic Design training as a student. And I quickly realised that what I had that the other students didn't have was my Sami identity. |
| 2:42 | Nicole Beale: So my friend and I decided to take advantage of this, and we started a T-shirt business… |
| | |
| --- | --- |
| 2:42 | Nicole Beale: Shows a photo of a t-shirt saying 'Pretty Girl' in Sami. |
| 2:42 | Nicole Beale: Its important to have an identity. Then people expect things of you. |
| | |
| --- | --- |
| 2:43 | Nicole Beale: i.e. You're from the village, people expect you to leave the village, get a good education, then come back. |
| 2:43 | Nicole Beale: I realise that i am not going to move back, because as the years go by, there is more to my identity. |
| | |
| --- | --- |
| 2:44 | Nicole Beale: You can also help to support things from afar. |
| 2:45 | Nicole Beale: When some people say negative things, prejudices about Sami people, etc. These things touch your own identity and you get really angry and want to do something about this and defend your identity. |
| | |
| --- | --- |
| 2:46 | Nicole Beale: My last three bits of advice about identity. |
| 2:46 | Nicole Beale: For adults and young people. |
| | |
| --- | --- |
| 2:46 | Nicole Beale: Its what in your heart that has to do with your identity. And remember you are more than about your identity. We're all more than that. |
| 2:47 | Nicole Beale: Presentation ends. |
Afternoon Discussion Panel
The panel discussion in the afternoon focussed on the importance of being young at heart as well as being young.
Youth research and youth researchers were also discussed.  The emphasis being on the fact that young people ask different questions than older people.
Final Question of the Day – What is smart to do more of?
Paul Dahlo – Take young people and allow them to ask teh good questions. Take them with you to buerocratic agency visits. BEFORE we have reached our decisions.
Lise Ostby – Young people should not just be the icing on the cake. Have venues where you can find out about places where this has been done well. You must speak their lingo. Talk in a way that they find interesting.
Christine Kristoffersen – We must create this. To have participation you must think through it beforehand. At the end of the process, what do we do to maintain the contact – to keep the fires stoked. To get involved socially can effect your career. What can we give them that will make what they do a part of their growing up experience?
Anna Nyman Holgerson – Let's not just create youth councils for the sake of having them. Its a responsibility to follow up and connect that up, making it work so that something comes of the proposals they make.